Welcome
To The Wild Grape New West Bistro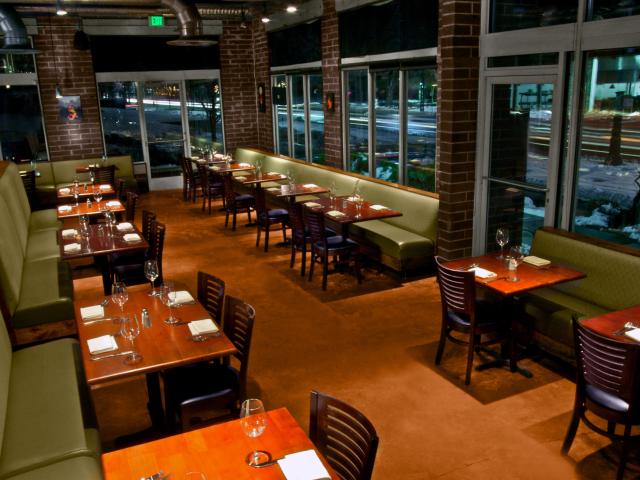 The Wild Grape Bistro, supporting local, organic, sustainable foods with an award winning wine list.

The Wild Grape Bistro is back to back winner of the 2009 and 2010 Utah's Top Chef Competition sponsored by Channel 4. Best New Restaurant 2009, Best Mixologist 2011; Salt Lake Magazine. Best Brunch Bar and Best Wine List Salt Lake City Weekly. Best Kept Secret Utah Business Magazine, Sunset Magazine, Salt Lake Magazine, City Weekly, Enterprise, Examiner.

It has been our vision and goal to bring you great food, service, atmosphere while supporting the local businesses and economy.

We are offering a business lunch Tuesday-Friday for $12 which includes Soup or Salad and an Entrée that changes daily.

You may know local restaurateur, Troy Greenhawt from Flemings Prime Steakhouse or Ruby River Steakhouse. Troy & Jessica Greenhawt have created the Wild Grape, New West Bistro, with a vision and a conscience.

Wild Grape is an award winning restaurant.

Envision traditional made-from-scratch cooking from an old west cafe brought up to date by a modern and creative chef.

The extensive use of fresh, sustainable, locally produced often organic, products.

The smells and tastes emanating from an authentic wood-fired grill and smoker.

Offering an extensive wine list featuring amazing bottles from some of the West's small and creative winemakers.

The small town cafe from our old west past often produced wonderfully delicious dishes. They might feature a locally caught trout or a freshly baked pie with regional berries. Today the availability of fresh, often organically grown ingredients is almost limitless.

The chefs create magic using a wide array of mostly local products. Wild Grape patrons appreciate cooking that honors our made from scratch heritage but also meets contemporary expectations.

Troy Greenhawt, Wild Grape's wine steward has brought in the perfect wines to compliment the inventive menu.

Experience western cuisine at a whole new level of taste and quality.


Enjoy the bold taste of the New West at the Wild Grape!


481 E South Temple
Salt Lake City, UT 84111
Phone: (801)746-5565
Email info@wildgrapebistro.com
Hours
Serving Breakfast, Lunch and Dinner
Tuesday - Sunday

Tuesday 8am - 9:30pm
Wednesday 8am - 9:30pm
Thursday 8am - 9:30pm
Friday 8am - 10:30pm
Saturday 9am - 10:30pm
Sunday 9am - 9:30pm